What Would You Say To The Men Who Killed Your Mum
What would you say to men who killed your mother? And could you forgive them? These were questions that faced 17-year-old Sarah Salsabila on an Indonesian prison island one day last October.
Iwan Setiawan was on his motorbike, speeding past the Australian embassy in Jakarta. His mind was on his wife, whose arms were around his chest and whose pregnant belly he could feel pressing against his back. Their second child was due within weeks and they were on their way to hospital for a check-up.
"Suddenly there was this incredibly loud sound and we were thrown into the air," he remembers.
Iwan didn't know till much later that it was a suicide bomb, the work of a local Islamist militant group, Jemaah Islamiyah, a militant group with links to al-Qaeda responsible for a series of attacks in Indonesia, including the Bali bombing in 2002 that killed 202 people from around the world.
"I just saw blood. Lots of blood. Metal went flying into one of my eyes, destroying it."
His wife was thrown from the bike, landing metres away. Both were rushed to hospital and, in a state of shock, a badly injured Halila Seroja Daulay went into labour.
"She was rushed into the operating room after getting contractions. But praise be to Allah, somehow she was still able to give birth naturally," Iwan says.
That night Rizqy was born. His name means "blessing".
"My mum was so incredibly strong," says Iwan and Halila's first child, Sarah, tearfully. "Even though her bones were broken she was able to give birth naturally to my brother. She was so incredibly strong, my mum."
But Halila never recovered from her injuries and two years later, on Sarah's fifth birthday, she died.
"I lost my best friend, my soul mate, the person who completed me. It's so painful to talk about it," Iwan says, also through tears.
At first, he was filled with a desire for revenge.
"I wanted the surviving bombers to die, but I didn't want them to die quickly," he says.
"I wanted them to be tortured first. I wanted their skin to be cut and salt put in the wounds so that they had some idea of the pain their bombing caused, both physically and mentally. My children and I have struggled so incredibly hard just to keep living."

It's October 2019, 15 years since the 2004 Australian embassy bombing and 13 since Halila's death. Rizqy is now at junior high school while Sarah's school days are almost over. Together with Iwan we're on a boat crossing a narrow strait to the jungle-covered island of Nusakambangan, off the coast of Java, the site of Indonesia's highest-security jail.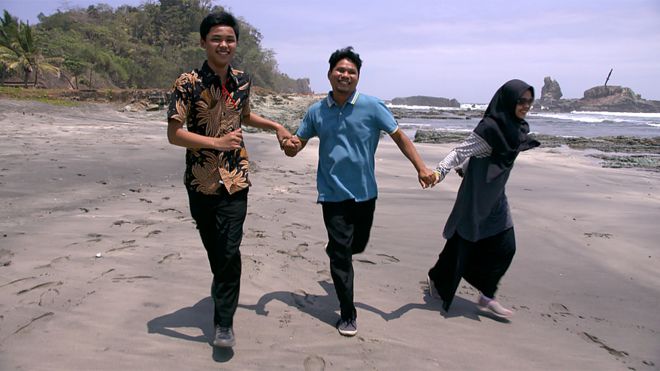 "The meetings today have taught me so much," she tells me.
"Hassan said sorry and he regrets what he did. I have learnt that someone can do something so terrible but then they can change, and I forgive him.
"I am smiling lots now because what I have wanted to know, and what I have wanted to ask for so long has been asked and answered.
"I feel waves and waves of relief."
A hug of forgiveness
Garil Arnandha's father was one of 202 people killed in the 2002 Bali bombings. Here he meets bomber Ali Imron, who apologises and asks for forgiveness.
What Would You Say To The Men Who Killed Your Mum