US election 2020 When Will We Get A Result For The US Election
Twenty years have passed since Americans woke up on an autumn morning after Election Day and did not know who would next lead the country.
It took 36 more days to resolve the contest between Al Gore and George W Bush as the country held its breath.
That prospect could happen again in 2020.
Why?
An unprecedented volume of postal ballots
Standing in a queue at a polling station on Election Day is the most common way American voters cast ballots, but in recent years, voting by mail has risen in popularity.
Whereas it was previously not uncommon for states to restrict voting by post to special circumstances – such as being a soldier who was serving abroad – now the practice is widely permitted in a majority of states, whether one is an "absentee voter" or for any other reason.
In 2020, the Covid-19 pandemic is expected to prompt an unprecedented number of voters to cast ballots by post.
Some 80 million mail-in ballots are predicted to be cast – double the number in 2016 and more than any other election year.
The concern now, however, is that ballot deliveries could be delayed, and raise questions over whether they will count. States have wide latitude over determining election rules, including setting deadlines for a postal vote to qualify.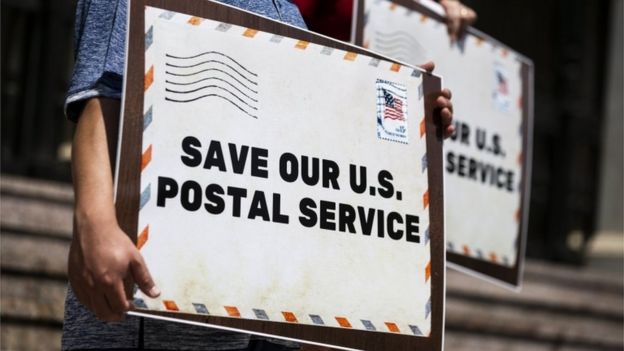 Pennsylvania will only include those received by 20:00 local time on election day, while California accepts votes as long as they are postmarked by the date, even if they arrive weeks later.
Some localities were forced to issue emergency orders to extend deadline during the 2020 primary election due to delays in the US Postal Service's deliveries, which could happen again in November.
How one key state is preparing for the avalanche of postal votes
By Laura Trevelyan, North Carolina
New Hanover County in Wilmington is the quintessential swing district in a battleground state. And the election is under way here.
Scenic and affluent, it hasn't voted for a Democratic President since Jimmy Carter. Barack Obama came close in 2008, just losing the county though he won the state – and Donald Trump won narrowly in 2016, carrying the state too.
Because of the coronavirus pandemic, people in North Carolina have been able to request mail-in ballots since 4 September. The enthusiasm has been off the charts – 813,014 voters had requested mail in ballots by 14 September, out of seven million registered voters in the state.
And here in picture-perfect New Hanover County, where 24.4K have requested mail in ballots, Democrats have the edge, with 12.4K requests, while 7.8K unaffiliated or independent voters are opting to vote by mail, compared to just 3.9K Republicans.
We will catch up come in-person voting, Chase Horton of the New Hanover County Republican Party tells me. Anything Donald Trump is against, like mail in voting, Democrats are for, says Richard Poole, the party chairman in the county.
Kathryn Hedgepeth, of the non-partisan New Hanover League of Women Voters, is delighted to see so much enthusiasm for voting. She has her absentee ballot already – but she wants to watch the first presidential debate before deciding how to vote.
What about in-person voting? Will that take longer?
Madonna I Want To Reinvent Pop Tours
The 2020 primary elections also gave voters a preview of problems that could mar in-person voting on Election Day. States from New York to Alaska struggled with running this traditional and still most common method of casting ballots.
This year, perennial issues like faulty voting machines were compounded by worker shortages and longer than usual queues due to social distancing concerns.
US election 2020 When Will We Get A Result For The US Election