The Dig Will Gompertz Reviews Film Starring Carey Mulligan & Ralph Fiennes
It's late summer in England, 1939. The sight and sound of RAF planes flying overhead is an ominous reminder that war looms.
The prospect of conflict troubles sensitive Edith Pretty (Carey Mulligan), a young widow who owns a chunk of rural Suffolk on which large mounds of earth rise up in a flat field as if the land is infested by a gang of gargantuan moles.
The grassy knolls were the reason she and her late husband bought the property, they wanted to explore them together.
"Well, best laid plans…" she says a little too breezily.
Give or take the occasional botched prodding by Henry VIII and his mates, the mounds have been left alone for centuries.
Mrs Pretty has a "feeling" about one eminence in particular – the whopper in the middle. With her mustard-keen young son Robert (Archie Barnes) in tow, she invites local excavator Basil Brown (Ralph Fiennes) to see what he might unearth beneath the layers of mud.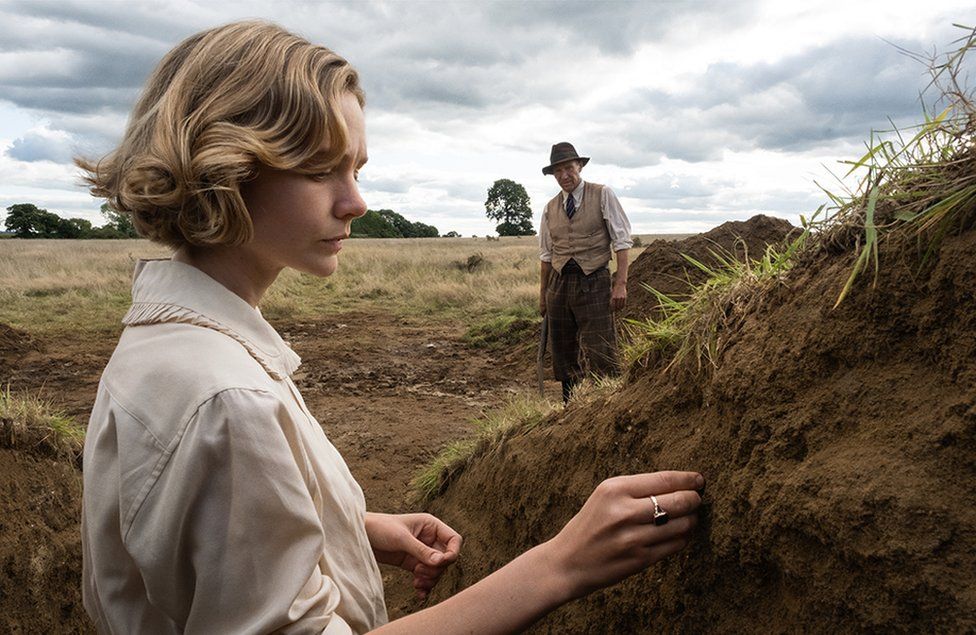 The self-taught, amateur archaeologist is a modest, quiet man who prefers to let his spade do the talking.
So, when the softly-spoken, conspicuously wealthy Mrs Pretty plays financial hard-ball and offers him a derisory 35 shillings wage for his labours, he hops on his bike and cycles off into the sunset. She quickly ups the ante to £2, he relents, and together they survey the cluster of ancient hillocks. Then, and without much of a flourish, Basil whips out his trusty shovel and the dig begins.
"Is that why you wanted to dig, Mrs Pretty", he asks with more than a hint of condescension, "for buried treasure?"
Mrs Pretty takes a breath, and then politely and pointedly puts Basil Brown in his place. She had always had an interest in archaeology, she informs him. Her childhood home was built on a Cistercian convent no less.
"I helped my father excavate the apse", she announces.
"That speaks, dunnit. The past", he says
Mutual respect is established.
Mr Brown hasn't discovered anything underground yet, but he's already found a kindred spirit.
Fiennes is excellent as the taciturn excavator, an auto-didact with more knowledge than all those Cambridge types who put him down, and write him off as "difficult".
Mulligan is first class, too. It's always a pleasure to see her on screen or stage (she was terrific in the revival of David Hare's Skylight a while back, playing alongside an in-form Bill Nighy).
The emotional attachment between them builds as the no-frills Mr Brown takes on a father-figure role, teaching the excitable young Robert about the night sky.
The Dig Will Gompertz Reviews Film Starring Carey Mulligan & Ralph Fiennes