Russell Crowe Unhinged Role Reflects On Rage In Western Society
There's something highly unusual about Russell Crowe's latest film: it's actually being released in cinemas.
Unhinged is the first major new movie to be screened in theatres for several months, after the coronavirus pandemic forced most to close their doors.
As a result, there is now a backlog of films which were due to come out this spring, such as Mulan and Tenet, waiting to be released.
But Crowe's road rage thriller is the first big new film out of the gate, or "the canary in the coal mine," as the film studio's president put it recently. Crowe is confident, however, that film fans are keen to return to theatres.
"The idea of going to the cinema is something a lot of people are really yearning for," the actor tells BBC News. "In the movies, all the crazy [stuff] happens on the screen, not actually in your life, and that's a more comfortable position for people to be back to.
"I know personally, I'd love to go to a movie right now, to sit and have that experience and feel that sort of rush when something cool happens on screen."
Cinemas have been allowed to open in England since 4 July but many have waited until this week, to give them time to train staff and put adequate cleaning measures in place. Crowe says their re-opening is a major step forward in the return to normality.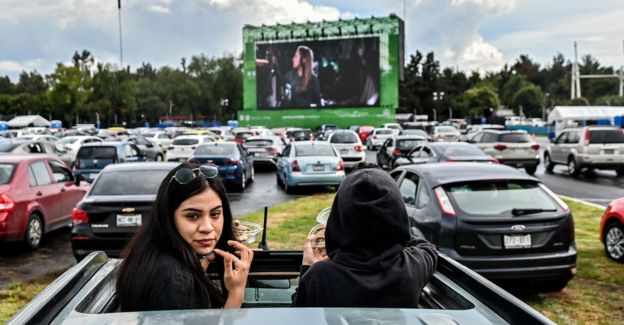 "We want to be able to take control of things and make decisions, about something even as normal as going to the movies," he says. "Right now, you've just got to rely on the fact that exhibitors and local governments are making a series of rules and observations about how we can do things safely."
Unhinged tells the story of a man who massively overreacts when a woman rudely honks her horn at him. The man, clearly unbalanced, becomes hell-bent on revenge, sparking a deadly game of cat-and-mouse.
At 90 minutes long, the film doesn't outstay its welcome, and it's the kind of fast-paced escapism made for the engrossing world of cinema.
'Societal rage'
It would be easy to think that, for an experienced actor like Crowe, a role like this would be a walk in the park, as his character only has one central emotion – pure anger.
But, he points out: "The singular nature of that rage, is actually a complicated thing to achieve, because you're used to coming into the room as an actor, you've got to bring your bag of tricks, the experience, all these different things to play complicated people and spread this gigantic tapestry up.
"With this guy, you don't get the opportunity to use any of those parts of you, that humanity, that sense of humour, charm. To utilise those aspects would be to really undercut what the movie is trying to do. There is no rationale behind this character's actions."
Crowe's reason for taking on the role was because it tapped into a certain anger or selfishness which, he feels, has become the default position in recent years.
"I started to realise this type of rage is happening continuously all over the place, that seems to be a place we've arrived at in Western society," he says. "For our example it's a guy using a car as a weapon, but it's also people stepping into places of worship, schools, nightclubs, and opening fire. It's people going crazy in a supermarket over toilet rolls."
The coronavirus pandemic saw shoppers fighting over items such as loo rolls and pasta, while mass shootings such as the 2016 attack on a gay nightclub in Orlando have become tragically common in recent years.
"What are we seeing?" asks Crowe. "And why is it there? That's why it became clear to me that the movie was saying something much more important."
Hurricane season
Unhinged faced some major obstacles even before the coronavirus pandemic took hold. The film was shot in New Orleans last year, during hurricane season.
"All of the road scenes were so challenging, just because of the environmental issues we were dealing with," explains director Derrick Borte. "It just made it unlike anything I've ever done before."
Welsh & Scottish Clubs May Join League
The actors and crew experienced two different weather extremes – filming in cars without air conditioning during intense heat on some days, while facing torrential rain on others.
Russell Crowe Unhinged Role Reflects On Rage In Western Society