Ralph Fiennes And Carey Mulligan Remake History In Netflix Film The Dig
Excavate! Excavate! Ralph Fiennes and Carey Mulligan explain why they chose to exhume the past in The Dig, a drama about the discovery of remarkable historical artefacts in Suffolk in the 1930s.
Like daredevil adventurer Indiana Jones, the archaeologist portrayed by Ralph Fiennes in his new film wears a hat, digs up relics and sometimes finds himself in life-imperilling situations.
That's where the similarities end, however.
For one thing, the man Fiennes plays – humble amateur archaeologist Basil Brown – was very much real. So too was the Anglo-Saxon burial ship he helped unearth at Sutton Hoo, one of the most significant historical finds to ever be located on the British Isles.
That astonishing discovery forms the basis of The Dig, a historical drama in which history itself comes under the microscope. Based on a 2007 novel by John Preston, it's about uncovering the past at a time when England and the world faced an uncertain future.
"I think it's interesting and maybe lucky the film is coming out when we're in another time of uncertainty because of Covid," muses Fiennes. "I hope people take a positive message from it, about what we can achieve through common endeavour and determination."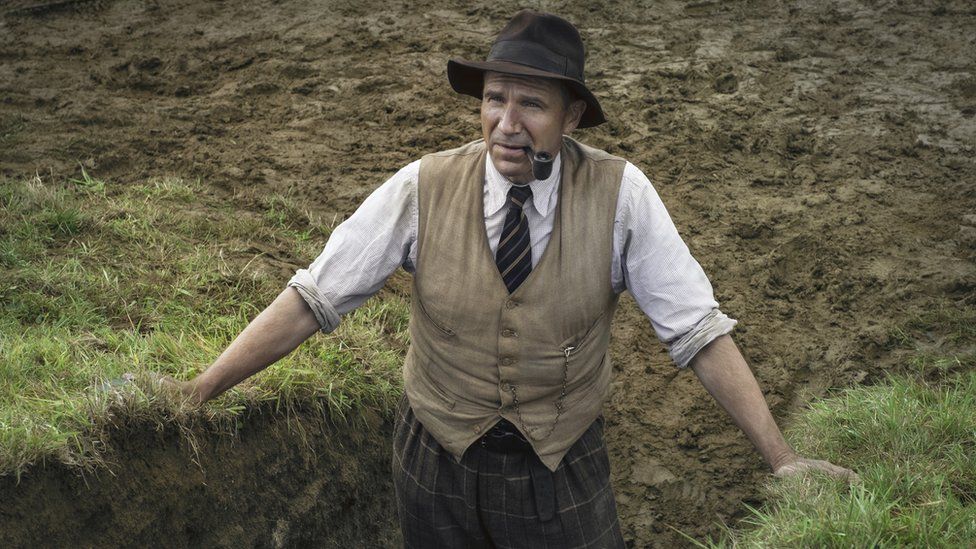 Sutton Hoo's extraordinary ship – believed to be the final resting place of King Raedwald, the 7th Century Anglo-Saxon ruler of East Anglia – was revealed in 1939 after landowner Edith Pretty called in Brown to investigate a series of mysterious earth mounds on her estate on the Deben estuary.
"They're not a natural pair and in fact, as you see at the beginning, it's not an immediate connection," says actress Carey Mulligan, who plays Edith in Simon Stone's film. "But there's a mutual respect there – a kinship and a meeting of minds that crosses the social divide."
That kinship is tested in a dramatic scene where Basil is suddenly buried in a collapsing trench. Fiennes – who was born in Ipswich, 10 miles from Sutton Hoo – chuckles when it's suggested that this is his "Indiana Jones moment".
"That's the closest I'm going to get!" he replies. "But there was no real danger. I was actually more anxious about the scrabbling and the frantic hands close to my face – they were going to give me more injury than the weight of the earth."
Mulligan admits to being "very relieved" when the scene was completed, and attributes its success to Stone's quest for authenticity. "Part of what was fun about working with Simon was he wanted to put us in the real situations as much as he could," she explains.
Stone, best known for directing Billie Piper in the Young Vic's much-praised theatre adaptation of Federico Garcia Lorca's Yerma, admits he has "never been hugely interested" in archaeology and initially thought the Sutton Hoo excavations were "a dry subject" for a film.
"But then I read the script and all my presumptions were thrown out of the window," he tells BBC News. "I was suddenly endlessly curious about a subject that hadn't played on my mind much before.
"If you were making an accurate film about archaeology, it would be 99% digging and 0.001% finding treasure," he continues. "It's incredibly laborious, and in some ways for an audience it's like watching paint dry.
"But it's always in the unexpected areas that people can find joy as viewers, and I thought, if I could get the audience to have the experience I had when I read the script, it could be a beautiful surprise for them."
Ralph Fiennes And Carey Mulligan Remake History In Netflix Film The Dig