M To The B The Blackpool Grime MC Behind TikTok's Most Popular Video
"It's M to the B, it's M to the B…"
If that line's familiar, you've probably seen TikTok's most-watched clip ever. But the story behind the track goes back four years to a foul-mouthed beef on the Blackpool grime scene.
Its creator Millie Bracewell says the original was made as "a laugh" – and she hopes its viral success will help her launch a music career.
In August, a short, sweet clip of Filipino-American influencer Bella Poarch looking from side to side as she mimed "M to the B" suddenly became a TikTok sensation. At the end of the video, Bella locks her cartoonishly-wide eyes onto the camera as a banging bassline kicks in.
'It was crazy'
The cute visuals, easy-to-copy movements, infectious mini-chorus and satisfying bass drop, all crammed into 10 seconds, are perhaps the perfect TikTok formula.
Bella's video has been watched almost half a billion times, liked 38 million times and had 1.2 million comments. More than seven million people have made their own videos using the track – called M to the B by Blackpool musician Millie B.
"I had messages from other people telling me it's blown up on TikTok. I didn't really think much of it," says 20-year-old Millie Bracewell. "But then when I went on it for myself and saw how big it actually was, it was crazy."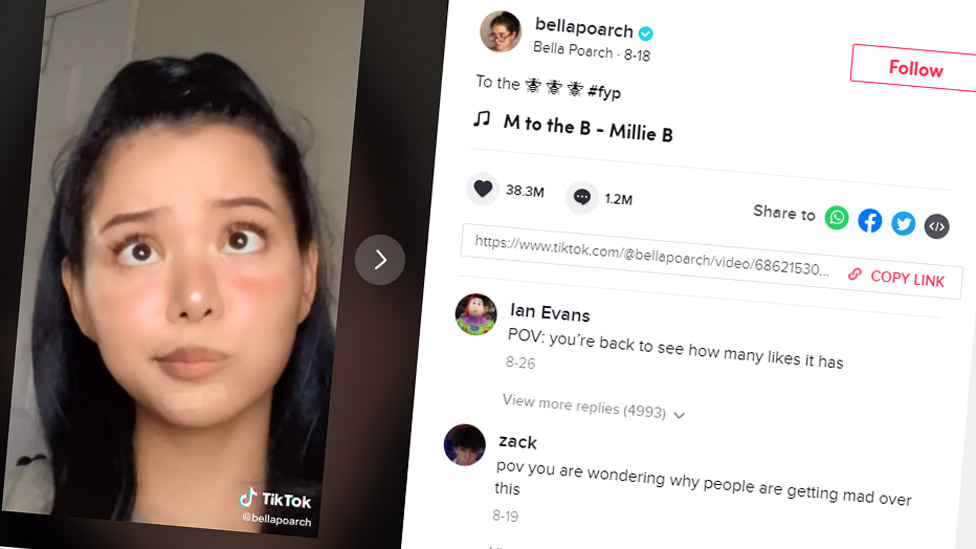 While Bella Poarch's TikTok creation is the epitome of girly innocence, Bracewell's original track, recorded when she was 16, is anything but.
Four years ago, the Blackpool grime scene exploded thanks to a group of MCs who did battle on YouTube by finding ever-more inventive and insulting ways to put each other down in "sends", or diss tracks.
Bracewell's tune was a challenge to the queen of Blackpool grime, Sophie Aspin – and a highly offensive one at that. In fact, the only clean part was the ending, when Millie B triumphantly proclaimed: "We all know the best MC, it's M to the B, it's M to the B…"
Aspin gave as good as she got, and the pair ended up collaborating on a track together. "She is a nice person," Bracewell now admits. "Behind the scenes she's easy to get along with."
Just 'a front'
Bracewell says the insults didn't stem from serious hostility, and the songs were all done for "a laugh".
She says: "That wasn't me as a person back then, being nasty in the sends. Like I said, it was a front. That's the sort of front that you have when you're sending for someone. You've got to go in on them. But I wasn't a nasty person. I'm nice. I'll help anyone."
The tune and its video, filmed as she ate fries in KFC and wandered around Lidl, is the least favourite of her songs, she says. "Just the way I look in it, and it's not the best of language.
"Now I have a daughter, obviously I wouldn't like to hear her saying things like that. But I suppose that's what people buzzed off back then. They liked the beef, they liked the funny side."
Tracing the origins of the track back further, the beat Bracewell was rapping over was an instrumental called Skank, made in 2012 by Bordum Beats – AKA producer Dean Williams from Leeds.


Having his track on TikTok's top track was "an unreal feeling", the 31-year-old says.
"Stuff like that doesn't just happen to people on my estate, you know what I mean?" says Williams. "It's the most-liked TikTok video of all time? And it's got my and Millie's sound on it? That's amazing.
"I just loved people rapping to it, I loved hearing that. I never charged anyone. I just wanted people to have fun and enjoy what they were doing."
The track, with Bracewell's vocals, was released properly last month after being licensed by B1 Records, part of Sony. It has been hovering around the top of the Spotify viral chart – even if its lyrics mean it's unlikely to get radio airplay any time soon.
M To The B The Blackpool Grime MC Behind TikTok's Most Popular Video