Fortnite Movie Nite Christopher Nolan's Hit Films Screen In-Game
Fortnite players stowed away their guns this week to kick back for a movie screening instead.
Three of Christopher Nolan's biggest films – The Dark Knight, Inception, and The Prestige – were shown in the game's Party Royale mode.
What players saw, and at what time, depended on what country you're in.
But why would anyone want to watch a film inside a video game?
Join the metaverse
"The real world is unbeatable, in my opinion," says Darshan Shankar, the founder of Bigscreen VR – a company that lets users watch films together in cinemas created within virtual reality.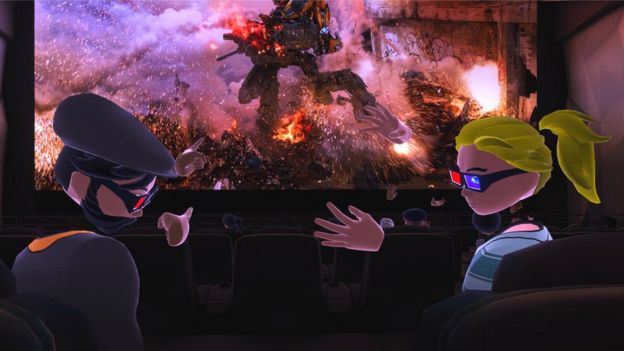 "Things like Fortnite and Bigscreen don't necessarily replace the awesomeness of a real world cinema," he says, instead it's about being "able to watch things together with people".
Browser extensions for Netflix and the BBC's iPlayer also exist for those wanting to watch films and TV shows together while apart, so they can text and chat about the action as it unfolds.
But Fortnite – like Bigscreen – has the potential to take this to another level by giving users a sense of being in the same space.
Fortnite's first attempt on Friday largely went well, with US viewers enjoying Inception, while UK audiences saw The Prestige. Vice wrote that the experience was "more fun" than a real cinema – pointing out that not only can tomatoes be hurled at the screen, but annoying audience members can be muted.
But the test wasn't perfectly smooth – some players reported seeing blank screens, and there was confusion over the fact that different countries had different show times, and not all were included.
It's not the first time Fortnite has tried something like this. It debuted a clip from the last Star Wars movie last year, and was also first to show a trailer for Nolan's next film, Tenet, in May.
Spy action film Tenet was supposed to come to cinemas on 17 July and help bring people back to the multiplex post-lockdown. But it has been repeatedly delayed, with 12 August given as its latest release date.
For obvious reasons, in-game movie screenings don't face the same health-risk headaches.

Director John Madden: 'I wouldn't object'
The Oscar-nominated director of Shakespeare in Love, The Best Exotic Marigold Hotel and Miss Sloane took time out from editing his latest movie to give the BBC his view on Fortnite's Movie Nite phenomenon
"Speaking as a filmmaker, I wouldn't object to a film I had made finding an opening in an unlikely setting, assuming it was in the later part of the film's release cycle.
"That said, Christopher Nolan's work might seem a better fit than mine to the Fortnite community!
Notting Hill Police Officers Attacked At Illegal Street Party
"I think that film distribution is bound to evolve, particularly in the aftermath of the Covid cataclysm, and provided that the film can be seen initially in the setting the director intended, it seems churlish to object to attempts to bring any work to a wider audience."
Fortnite Movie Nite Christopher Nolan's Hit Films Screen In-Game