Daniel Pearl Pakistan Court Acquits Men Accused Of Murder
Pakistan's Supreme Court has ordered the release of four men accused of the murder of US journalist Daniel Pearl in 2002.
Mr Pearl, the Wall Street Journal's South Asia bureau chief, was kidnapped and beheaded while working on a story about extremist groups in Pakistan.
A British-born alleged militant was originally convicted of masterminding the operation, with three accomplices.
However, Pakistan's top court has now upheld a ruling acquitting the men.
A lawyer for Mr Pearl's family said they were in "complete shock", and the decision was a "travesty of justice".
Meanwhile, US officials have indicated they will try and launch legal proceedings against the man accused of his murder, Omar Saeed Sheikh, in the US. He denies wrongdoing.
What happened to Daniel Pearl?
In the aftermath of the 11 September 2001 attacks on the US, Wall Street Journal journalist Daniel Pearl travelled to Pakistan, working on stories about militant groups. He would end up becoming their victim himself.
First, haunting pictures of him in chains and with a gun to his head were released. Then, he was beheaded. His gruesome death was filmed by the extremists, a grim precursor to the tactics that have now become a common part of the propaganda videos of al-Qaeda and the Islamic State group.
Sheikh, the man accused of his murder, was born in Britain, where he attended a private, fee-paying school in East London, as well as the London School of Economics. However, he was drawn into jihadist circles. In 1994 he was imprisoned in India, after allegedly kidnapping a number of Western tourists. He was freed, along with two other militants, five years later, when gunmen hijacked an airliner, forcing it to land in Taliban-controlled Afghanistan, and demanded the men be released in exchange for the passengers.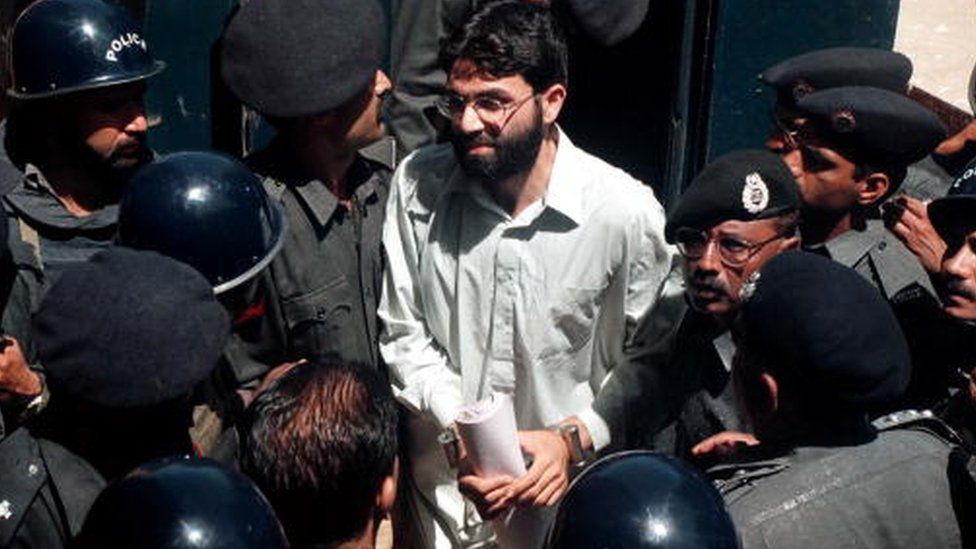 The prosecution alleged Sheikh first met Daniel Pearl at a hotel in the Pakistani city of Rawalpindi in January 2002. Police said Sheikh had used a fake name and pretended to be a follower of a hard-line cleric Mr Pearl wanted to interview. Mr Sheikh's lawyers deny he was at that meeting place, or that any conspiracy to abduct Mr Pearl was hatched there.
What is clear is that Mr Pearl flew to the port city of Karachi expecting to conduct an interview, but instead he was kidnapped. His abductors demanded better treatment for detainees held by American forces at Guantanamo Bay, the return of all Pakistani men being held there, and bizarrely for a militant group, also called for the US to either deliver a consignment of fighter jets that had been promised to Pakistan but then halted, or return the money for them, plus interest. In the end, Mr Pearl was murdered, accused, as an American Jewish man, of being a Mossad agent.
Why were they acquitted?
Following an investigation, Sheikh and three other men were arrested, charged and then convicted in 2002. There seemed strong evidence that Sheikh had masterminded the kidnapping, having been identified at the hotel in Rawalpindi by two separate eyewitnesses. But the prosecution case was deeply flawed. The Supreme Court decision on Thursday cleared him of any wrongdoing.
It's widely acknowledged that Sheikh first handed himself over to Pakistan's powerful intelligence services. However, police and prosecutors attempted to gloss over that, and instead, in spite of overwhelming evidence to the contrary, claimed he had been arrested a week later, wandering around Karachi airport.
What's more, evidence began to emerge that Sheikh had not physically carried out the murder himself. Instead, it's now thought a senior al-Qaeda operative currently in Guantanamo Bay, Khalid Sheikh Mohammed (no relation), was responsible. The Pakistani authorities, however, deliberately discounted testimony suggesting that was the case.
Daniel Pearl Pakistan Court Acquits Men Accused Of Murder