Cristiano Ronaldo dos Santos Aveiro was born on February 5, 1985, in Madeira, Portugal to   Maria Dolores dos Santos Aveiro and José Diniz Aveiro. Cristiano has an elder brother, Hugo and two elder sisters, Elma and Liliana Cátia. His name was inspired by the former US-president, Ronald Reagan, whom his father was influenced by.
Sergio Aguero: Manchester City Forward Out For A Few Weeks With Injury, Says Pep Guardiola
The island of Madeira was also the place where Cristiano first learned to master his skills as a footballer. He spent his early years playing for his local team, Nacional, and by the time he turned 12 years old, he already made his name for himself as one of Madeira's top footballers . It wasn't long before he started to catch the attention of other big Portuguese clubs. Among Sporting was Benfica, a team Cristiano and his father followed as a young boy. However he eventually chose to play for Sporting which was a team his mother loved and followed as she was growing up, to play with the likes of Figo was the dream for her son.
He was then spotted by former Liverpool manager, Gerard Houllier at the age of sixteen but Liverpool had no intentions to sign him at that time because they thought he was too young and he needed more time to develop his skills. However, in the summer of 2003, when Sporting played against Manchester United and defeated them, Cristiano caught the attention of Manchester United manager, Sir Alex Ferguson.
Ronaldo became Manchester United's first-ever Portuguese player. Initially, he requested for the number 28 as his jersey number because he didn't feel that he could live up to the pressure of previous players such as George Best and David Beckham who wore the number 7 jersey.
The year 2006 to 2008 proved to be a rather controversial year for the star. In the 2006 World Cup, Cristiano faced accusations regarding his sportsmanship. In a quarter-final match against England, he was heavily criticized for sending of his club team mate, Wayne Rooney who was playing for the England team. It wasn't too long until fans started accepting Cristiano again. In 2007, he won PFA Young Player of the Year, PFA Player of the Year, PFA Fans' Player of the Year, Portuguese Footballer of the Year, FWA Footballer of the Year, Sir Matt Busby Player of the Year and Manchester United's Players' Player of the Year. The year 2008 also saw him taking back the PFA Player Of The Year Award for the second time running. That same year, Ronaldo also had to deal with controversies regarding his club transfer to Spanish giants, Real Madrid. He eventually chose to stay with Manchester United and stressed to the public that he had no intentions of leaving the club.
Cristiano now lives with his cousin, Nuno and his brother in law Ze. When he is not on the field, he is a very family oriented person. Growing up, when he was about to choose football as his career, he said that it was very difficult for him as that would mean lesser time with his family, especially his mother, whom he says play a major role in his life.
During his free time, Cristiano enjoys cooking. He mentioned in an interview that he usually cooks before he leaves for his soccer practice. Because he is constantly training, Cristiano rarely has time to watch TV. If he does get the time to watch, he says he loves watching one of the local Portuguese game show which is mostly about trivia questions. Cristiano is an avid learner and he takes interest in learning new things everyday. Among Cristiano's biggest pet peeves are smoking, people who don't make an effort and dishonesty.
When the tsunami hit South East Asia, Cristiano flew to Indonesia to help those in need. He auctioned off a few stuff to help raise funds for charity. He hopes to get involved in more charity projects in the future because he believes his star status will help him reach out to others for help.
– IMDb Mini Biography By:Â Ezequiel De Castilla
Trade Mark (1)
Much known for his fancy flicks and stepovers
Trivia (48)
Became the most expensive teenager in Britain in 2003.
Was selected for the Portuguese national team after debuting against Kazakhstan in November 2003.
Signed by Manchester United Football Club from Sporting Clube de Portugal, Commander of the Military Order of Our Lord Jesus Christ, Honorary-Member of the Order of Prince Henry, Officer of the Order of Benemerency, in August 2003 for an initial £12,240,000.
Made his full Manchester United Football Club debut against the Wolverhampton Wanderers Football Club in August 2003.
His father named him after former American President 
Ronald Reagan
.
He was the first ever Portuguese Manchester United Football Club player.
His parents names are José Dinis [de] Aveiro, deceased, and wife Maria Dolores dos Santos.
Has been criticized many times for diving in the penalty area.
Has appeared in several Nike adverts.
Before joining Manchester United he played against them for Sporting Lisbon weeks later he was signed by Manchester United.
Sporting Lisbon signed him up for their schoolboy team at the age of 13 for £1,500.
He was born into a poor family on the Portuguese island of Madeira off the Moroccan coast.
Was signed by Manchester United as a long term replacement for 
David Beckham
.
He is a very big idol in his hometown Madeira.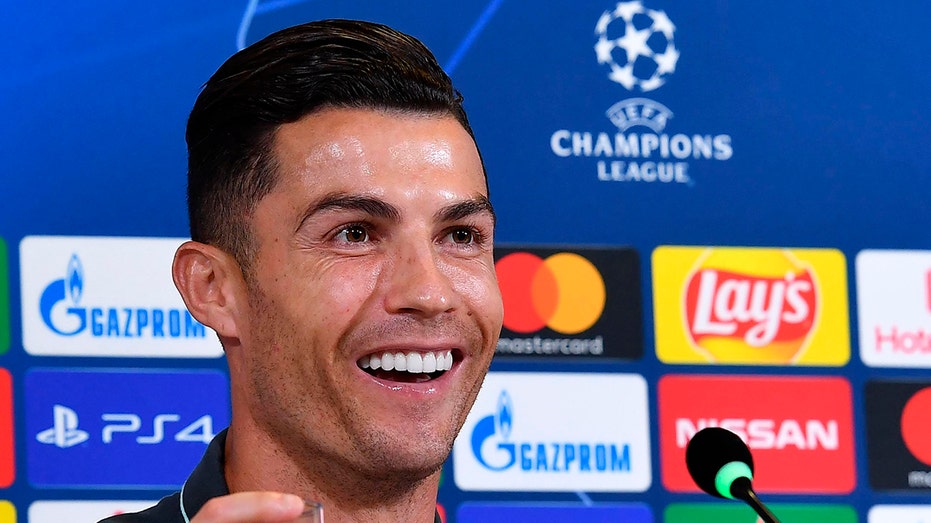 Made his international debut for Portugal against Kazakhstan in August 2003.
Scored his first Manchester United goal against Portsmouth FC at Old Trafford.
Starting playing for his local football side Nacional.
His father passed away while he was on international duty in Russia.
In the first ever FIFPro awards was voted the special young player of the year award.
After playing against Manchester United in a pre-season friendly the Manchester United players urged the manager to sign Cristiano on the the plane back to Manchester.
Bought a £1.5 million pound mansion in Cheshire which was previously owned by 3 former Manchester United players.
Flew to Indonesia to visit the areas affected by the tsunami and raised over 1 billion rupiah by auctioning off his personal sports gear.
Grew up with his older brother Hugo dos Santos Aveiro (b. 1975) and his two older sisters Elma dos Santos Aveiro (b. 1974) and Liliana Cátia "Kátia" dos Santos Aveiro (b. Madeira, 5 October 1976), singer.
Scored Manchester United Football Club's 1,000th league goal against Middlesbrough Football Club.
Wears the number 7 shirt when he plays for Portugal, when he played for the Real Madrid Club de Fútbol and when he plays for the Juventus Football Club.
Was named in the UEFA Team of the year: 2004, 2007-2017.
Cristiano was first spotted by former Liverpool F.C manager 'Gerard Houllier' at the age of 16.
Cristiano drives a red Ferrari 435.
292 appearances for Manchester United; scored 118 goals. Honours: Premier League (2007, 2008, 2009), FA Cup (2004), Football League Cup (2006, 2009), Community Shield (2007), UEFA Champions League (2008), FIFA Club World Cup (2008).
His Store CR7 Run By his older sister Elma was robbed by Porto Fans.
Won the Ballon d'Or five times: 2008, 2013, 2014, 2016 and 2017.
Was "Public Enemy no.1" with English football fans after his part in 
Wayne Rooney
's sending off against Portugal, in the World Cup quarter finals.
Not only does he know Portuguese but Spanish and English, as well.
On 3rd July 2010 he declared that he had become a father to a baby boy, naming his son after himself. Mother is an unknown American woman.
Was in a relationship with Russian model 
Irina Shayk
 (2010-2015).
Captain of the Portuguese national team who won the 2016 Euro Cup.
Played for Portugal in the 2006, 2010, 2014 and 2018 FIFA World Cups; scored 7 goals.
Manchester United accepts an unconditional offer of $131 million for Ronaldo from Real Madrid, a record fee for one player. [June 2009]
Donated his entire 600,000 euro Champions League bonus after Real Madrid won the 2015-16 UEFA Champions League.[June 2016].
In August 2015 he purchased a 2,509 square foot loft in Trump Tower for $18.5 million.
Both he and arch-rival Lionel Messi have sons with the name Mateo.
On 8 June 2017 welcomed twins Eva Maria and Mateo via surrogate and on 12 November 2017 welcomed a daughter Alana Martina with girlfriend Georgina Rodriguez.
438 appearances for Real Madrid; scored 450 goals. Honours: Copa del Rey (2011, 2014), La Liga (2012, 2017), Supercopa de España (2012, 2017), UEFA Champions League (2014, 2016, 2017, 2018), UEFA Super Cup (2014, 2017), FIFA Club World Cup (2014, 2016, 2017).
Officer of the Order of Prince Henry (5 July 2004), Grand-Officer of the Order of Prince Henry (7 January 2014), Commander of the Order of Merit (10 July 2016).
Has some Noble through both his parents, distant Jewish through three maternal ancestresses and Cape Verdian from the Island of Santiago, Praia, through his paternal grandfather's mother ancestries.
Born in the Parish of Santo António.
Cristiano Ronaldo and Neymar 'make friends' in the latest advert the Brazilian star has taken part in. The duo are protagonists in a commercial for SFR TV and seem to be having a good time, the advert, featured Nigerian multiple award Afrobeat Singer TTY Noni alongside Nigerian model and Fashion critic Dandy Enon Ogbe.
Personal Quotes (16)
I would be very proud if, one day, I'm held in the same esteem as George Best or Beckham. It's what I'm working hard towards.
Lots of young players have triumphed at United, so why can't it happen to me? I'm not worried I'm young – it's an incentive to do the best I can.
The No 7 shirt is an honor and a responsibility. I hope it brings me a lot of luck.
There is no harm in dreaming of becoming the world's best player. It is all about trying to be the best. I will keep working hard to achieve it but it is within my capabilities.
I've never tried to hide the fact that it is my intention to be the best
Maybe they hate me because I'm too good!
We lost because we didn't win.
I don't like changing nappies, but I do it.
I prefer other people to make judgments about the way I play and to characterize me, rather than me describe myself.
I have two Golden Boot awards at home. It would be nice to win another, but I wouldn't mind it if I didn't.
Some fans keep booing and whistling at me because I'm handsome, rich and a great player. They envy me.
I don't smoke or drink, and I'm not a big spender, I live in a rural part of Cheshire and my nearest neighbors are squirrels, birds and cows.
I don't think about one trick or the other, they just happen.
I feel bad only when I play badly. Fortunately, that happens rarely.
Thank you all for participating in the CR7 Boys Underwear Competition – it's been a real pleasure to see all of your photos.