Covid In Europe How Much Testing Do Other Countries Do
A sharp rise in new coronavirus cases both in the UK and the rest of Europe has led to an increase in demand for coronavirus tests.
Prime Minister Boris Johnson has defended the UK government's testing system, claiming the country has carried out "more tests than any other European country".
So, what do the figures say and how does testing work in other countries?
Who has done the most tests?
According to data collected by the European Centre for Disease Prevention and Control (ECDC) – an EU agency – the UK has conducted more tests than any other European country.
Comparisons between countries on something like testing is not perfect, because some countries report less often and there might be some differences in methodology.
For example, the data the ECDC collects on the UK includes "surveillance" tests used to track where the virus is spreading, but it is not clear how many other countries do the same.
Between 9 March and 20 September, its data shows:
The UK did more than 19.7m tests
Germany did 15.5m tests
Italy did 10m tests
France did 10.6m tests
These tests are just antigen tests – the ones you use to find out if you currently have the virus.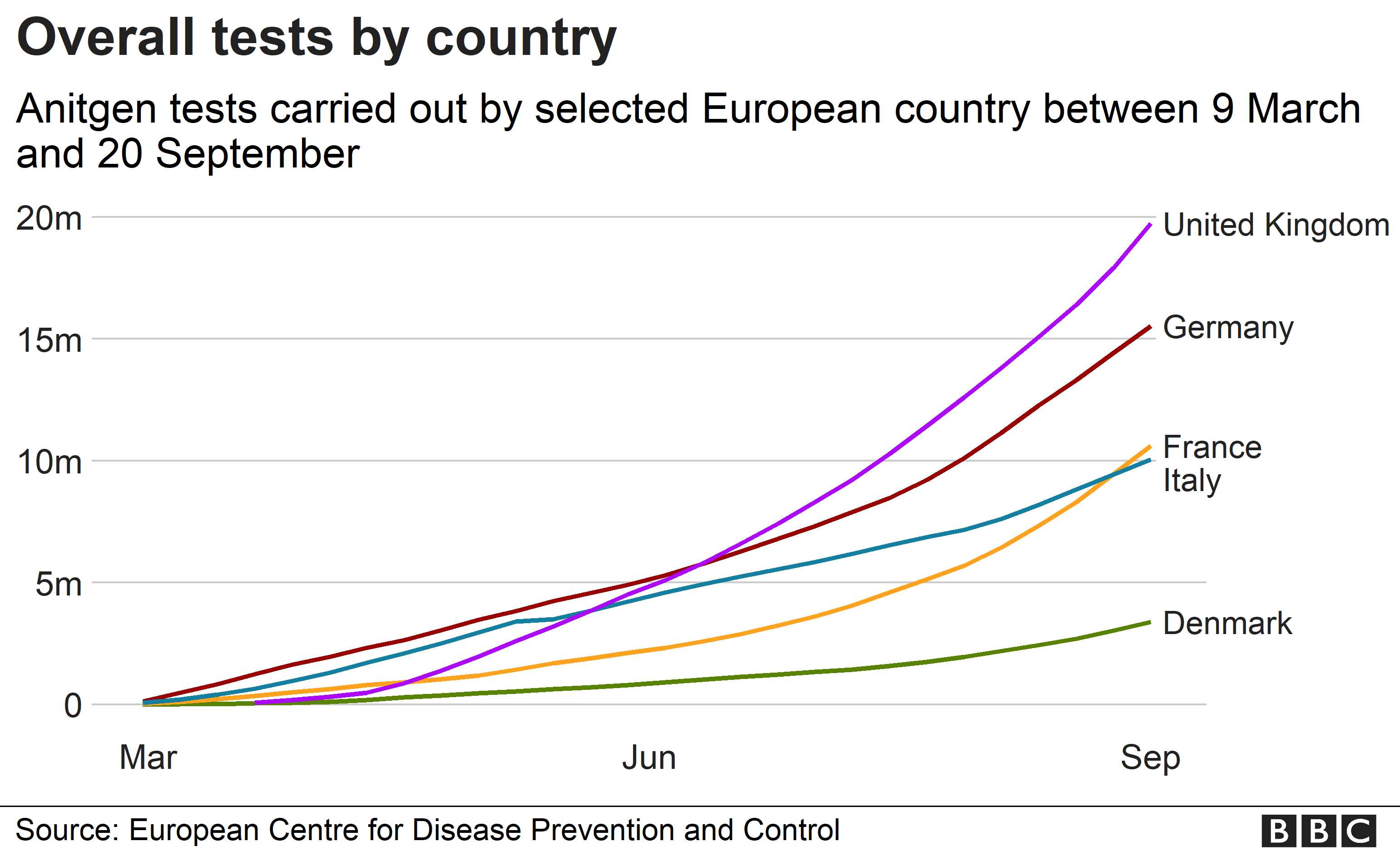 What about relative to population?
Looking at overall numbers is not entirely helpful because no country has the exact same-sized population.
Denmark, for example, has conducted 3.4m tests – just a sixth of what the UK has done. However, its population of 5.6m is very small compared with the UK.
That is why we look at per capita numbers – or the number of tests conducted for every 1,000 people.
On this, the UK still performs well, having done 296 tests for every 1,000 people between 9 March and 20 September. This is better than Germany (187 per 1,000) and France (158 per 1,000).
However, four countries in Europe have higher rates of testing, including Denmark, with 582 tests per 1,000 people.
What it the rate of testing right now?
Mr Johnson frequently refers to daily testing rates. This is the number of tests conducted in the most recent day, relative to the population.
The European Centre for Disease Prevention and Control produces a weekly rate of testing which, once again, the UK does well on.
In the week ending 20 September:
Covid Reinfection Man Gets Covid Twice And Second Hit More Severe
UK – 27 tests per 1,000
France – 17 tests per 1,000
Germany – 13 tests per 1,000
Spain – 16 tests per 1,000
However, once again it is beaten by the same four nations: Malta, Cyprus, Lithuania and Denmark.
Covid In Europe How Much Testing Do Other Countries Do