Brexit Trade Deal Who Really Owns UK Fishing Quotas
Foreign companies own the rights to catch more than 130,000 tonnes of fish every year that are part of England's fishing quota, BBC research has revealed.
More than £160m worth of the English quota is in the hands of vessels owned by companies based in Iceland, Spain and the Netherlands, thanks to a practice known as "quota-hopping".
That amounts to 55% of the quota's annual value in 2019.
Taking back control of UK fishing waters was a key issue for many Brexit supporters.
But with fishing still an obstacle in the UK's trade talks with the European Union, the figures raise questions about what taking back control will actually mean.
Quotas play crucial role
Quotas are at the heart of heated debates about fishing on both sides of the English Channel.
Many countries use them to manage shared fish stocks. They determine how many fish of each species each country's fleets are allowed to catch.
The EU's Common Fisheries Policy (CFP) sets quotas among EU member states, and similar deals are negotiated with neighbouring countries.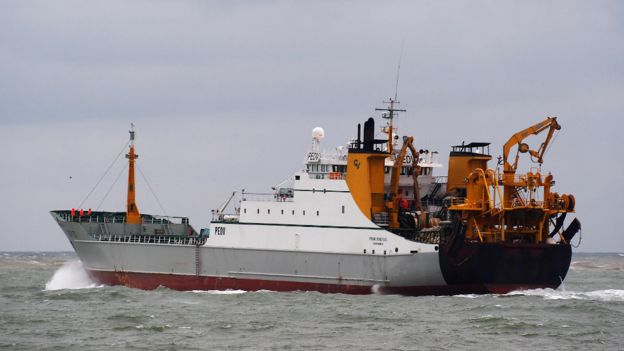 The UK government says becoming an independent coastal state after Brexit will give it the right to decide "who fishes in our waters and on what terms".
But, as this research confirms, a significant portion of the existing UK quota is already in foreign hands.
Scotland, Wales and Northern Ireland all have their own quotas, each with different degrees of foreign ownership.
'More UK economic benefit'
Under plans outlined in the Fisheries Bill, which is currently going through Parliament, the government does not intend to return the foreign-owned quota to UK fishermen.
It has said only that it is "reviewing…with a view to strengthening the rules" surrounding foreign ownership of UK-flagged boats.
Current rules say even if vessels are 100% foreign-owned, they must have an "economic link" to the UK. That means they must meet one of five conditions, which include landing more than half their catch at UK ports or having majority British crews.
In March, Environment Secretary George Eustice said planned changes under the Fisheries Bill will ensure foreign-owned boats "are required to land more of their catch in UK ports, and return more economic benefit to the UK".
He added: "In future any foreign company that wanted to buy vessels in the UK might well be able to, but it would be subject to that new condition."
'Worst expectations'
Yikes Fox And Rodent Battle Is Top Wildlife Photo
For many in the fishing industry that does not go far enough.
"I'm alarmed at how bad the level of foreign ownership really is – it far exceeds my worst expectations," said Paul Lines, from Fishing for Leave, a pro-Brexit group within the British fishing industry.
"I fear government action will change nothing, and we're still going to be dominated by a foreign presence."
Brexit Trade Deal Who Really Owns UK Fishing Quotas