Bollywood Faces Biggest Box Office Test As Cinemas Open
Cinemas have reopened in India after a seven month-long break forced by Covid-19. But with barely any new films being made and the pandemic still raging, lockdown losses will haunt its comeback, reports the BBC's Krutika Pathi.
"Cinemas have got the brunt. We were the first to shut down and we will be the last to reopen," Alok Tandon, the CEO of multiplex chain Inox, told the BBC last month. Many of India's nearly 10,000 cinema halls closed in March, just as coronavirus cases had started to appear and even before the government imposed a lockdown.
India continues to reopen, despite having the second-highest caseload in the world.
On Thursday, just as film theatres in several states welcomed customers, India's health ministry confirmed 680 deaths in the last 24 hours, its lowest in nearly three months. Daily averages of case numbers have also dipped in recent weeks, but experts say any slowdown must be greeted with caution.
After a long summer with no movies on the big screen, opening up cinemas is largely a symbolic and "feel-good move", says Rakesh Jariwala, a media and entertainment analyst. "The thinking is hopeful – like the idiom goes, build a city and people will come," he adds.
But watching a movie in a cinema won't be the same, at least in the foreseeable future. There will be no eager crowds or long queues at the ticket counter as social distancing is enforced. Names and phone numbers will be collected at the entrance for contact tracing. And no hall will run full as seating is capped at 50%. Even popcorn will be sterilised under UV rays for eight minutes, reported local media.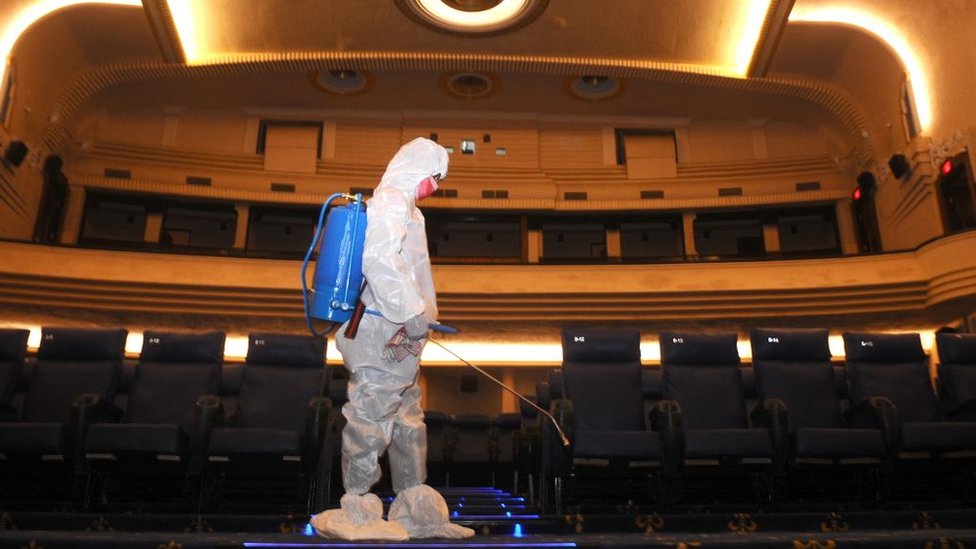 But the biggest blow is the lack of new material – for months, cinemas watched helplessly from the sidelines as streaming platforms snapped up Bollywood movies that were willing to opt for an online release. This leaves cinemas with no option but to re-release older titles, including those from 2018.
The problem, according to film critic Saibal Chatterjee, starts there. "People aren't dying to go back and watch old films – why would we spend our money and take a risk? Who would go with their family and potentially expose them?"
But studios remain reluctant to let go of new films just yet. "It's a vicious circle – people won't come unless a big blockbuster releases, but producers won't release a big movie unless people come," Komal Nahta, a film and trade analyst, says.
India's thriving south Indian film industry hasn't been spared either – releases of upcoming Tamil and Telugu films have been delayed after a halt in shooting.
Bollywood Faces Biggest Box Office Test As Cinemas Open