Bihar Elections First Major Polls Since Pandemic A Test Of Modi's Popularity
India's first major elections since the beginning of the pandemic promise to be closely fought – and another test of Prime Minister Narendra Modi's popularity.
More than 70 million voters are eligible to cast their ballots for 243 assembly seats in the eastern state of Bihar. Polling began on Wednesday in the first of three phases and votes will be counted on 10 November.
Traditional forms of campaigning were suspended and virtual rallies were held initially. Polling stations and voting time have been increased to avoid congestion. But all this may well be too late: people and leaders alike have thrown caution to the wind in recent weeks and turned up enthusiastically – and unmasked – at huge public meetings.
One of India's poorest states, Bihar is a key electoral battleground. Its 124 million people are divided sharply along caste lines. With some two dozen home-grown parties, including 11 new ones, in the fray this time, the state is a crucible of alliance politics. "The multiplicity of political parties makes things very complicated in Bihar," Suhas Palshikar, a leading political scientist, told me.
Bihar is also the only big state in India's sprawling and politically febrile "Hindi-speaking heartland" that the BJP has not won on its own. Narendra Modi's BJP has been in power for more than a decade as a junior partner in alliance with a regional party, the Janata Dal (United) or JD-U, led by Nitish Kumar, a powerful regional leader whose star may be on the wane.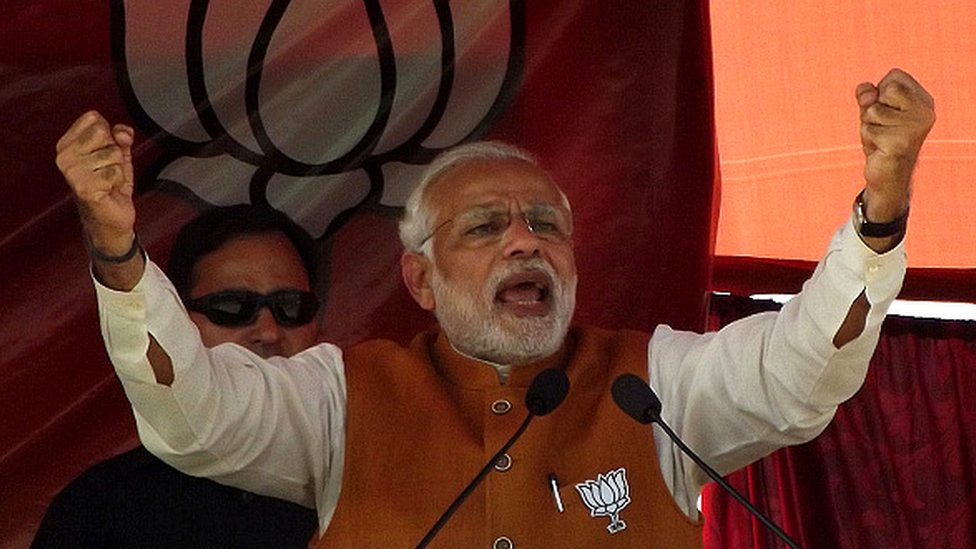 Indian voters traditionally punish incumbents. Despite two successive stunning wins in federal elections since 2014, Mr Modi's party itself has a mixed record in state elections – the BJP has lost more elections than it has won in the past six years. It has not won a clear majority in any state since polls in Uttar Pradesh four years ago. In the past two years, it has lost six state elections and gained power in one by cobbling together a majority with a regional rival-turned-partner.
So Bihar will be a test of the BJP's winning abilities, especially with tougher state elections scheduled for next year in Bengal, Kerala and Tamil Nadu. "It is literally the last opportunity for the party to shine before the harder contests next year. Bihar will prove whether the BJP's streak of defeat at state level continues or not," said Gilles Verniers, assistant professor of political science at Ashoka University.
Mr Modi's government is accused of botching a sweeping lockdown to stall the spread of coronavirus at the end of March by forcing millions of out-of-work migrants to flee the cities and return to their villages. More than two million of these workers returned to Bihar. The election will tell us how voters have responded to the government's handling of the pandemic.
India's economy had stalled well before then: joblessness was high, farm prices were low and industrial production was crawling. The pandemic has ravaged poor economies like Bihar: unemployment rates have climbed above the national average, and remittances from migrant workers which accounted for a third of the state's revenues have dried up.
Still most locals appear to blame Mr Kumar for not doing enough as chief minister to bring back stranded workers, instead of Mr Modi, whose hastily-executed lockdown triggered the exodus. One reason for this could be a rising tide of anti-incumbency against Mr Kumar, who is seeking a fourth consecutive term. "The pandemic has exacerbated matters. Unemployment is a major issue. We have no idea how this will translate into votes," says Prof Vernier.
Many believe the contest is wide open. Mr Kumar, who has ruled Bihar for 15 years and leads the coalition, is trying to buck anti-incumbency. Ranged against him is a rainbow coalition, led by the regional Rashtriya Janata Dal (RJD), which in turn is led by a young dynast son of the once-powerful Laloo Prasad Yadav, now serving a jail term for corruption. To add to this complex alphabet soup of parties is the small caste-based Lok Janshakti Party (LJP), which has broken away from the ruling coalition and is fighting on its own.
https://www.eugine360.com/brazils-racial-reckoning-black-lives-matter-here-too/
Mr Kumar is now one of Mr Modi's closest allies. He has built his reputation as an astute populist who has provided basic amenities, curbed crime and controversially banned liquor in a state blighted by crippling feudalism and endemic misrule. But jobs remain scarce and there is growing voter fatigue. This time, Mr Kumar appears to have been overshadowed by Mr Modi, a leader who possibly evokes more hope.
Bihar Elections First Major Polls Since Pandemic A Test Of Modi's Popularity