Arsenal Boss Mikel Arteta Remains Hopeful That His Side Can Qualify For Europe This Season
The Gunners had lost both of their previous two games, to Manchester City and Brighton, but Thursday's victory arrests the slump, moving them up to ninth in the table.
Champions League qualification looks unlikely, but with Manchester City's involvement in Europe still up in the air pending their appeal against a ban for breaching financial fair play, Arteta's side could well claim a Europa League spot.
"I am always very positive," said Arteta. "We have enough time, we have enough games left to do it.
"We had two defeats for the first time since I joined, but now we have won and it lifts the spirit, it lifts the belief.
"The calendar of the Premier League has given us is pretty tough. We have four away games and we have to recover the players now."
The Gunners were helped along their way at St Mary's by a dreadful error from Southampton goalkeeper Alex McCarthy who faltered under pressure from Eddie Nketiah following a back-pass, allowing the striker to intercept his attempted ball out slot into an unguarded net.
Manchester City v Liverpool To Be Played At Etihad Stadium
The win was sealed late on when Jack Stephens was sent off for fouling Pierre-Emerick Aubameyang as the last man and from the resulting free-kick substitute Joe Willock finished after Alexandre Lacazette's free-kick struck the wall and his follow-up was parried.
It was timely boost for the Gunners, who have struggled with injuries and form since the restart.
The victory, though, was not undeserved. Prior to the goal, Nketiah had seen a close-range finish ruled out for offside and Aubameyang had crashed an angled effort against the bar.
Coming after such an impressive display in their first game back at Norwich, the result continues Southampton's woeful inability to replicate their away form at St Mary's.
This was their 10th loss at home this season – equalling the club record for a Premier League season, set back in 1993-94 when their were 42 games in a campaign.
With 10 points separating them and the bottom three it is very unlikely that they will get dragged into a relegation fight.
Small steps forward for Arsenal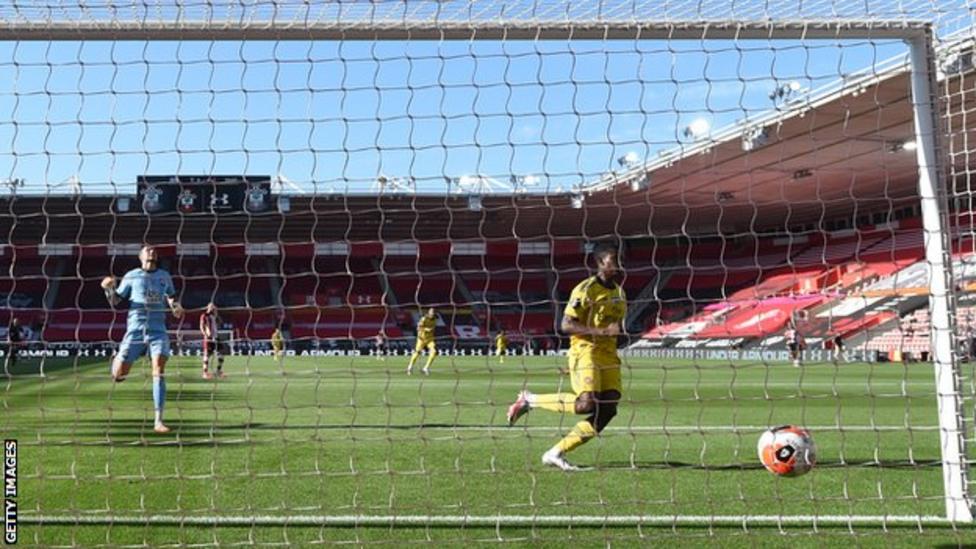 Since the restart, the Gunners have lurched from one mini-crisis to the next – David Luiz's calamitous display against Manchester City, injury problems galore, and a winning position thrown away at Brighton.
Two defeats from two games since the restart had already put paid to Arsenal's already slim hopes of qualifying for the Champions League.
It also placed them in serious danger of recording their worst league finish since 1994-95 – the season in which George Graham was sacked and they ended up 12th.
That threat is far from over but what is just a third away win in 16 fixtures this season, coming from a much more assured performance, will bring at least a small injection of confidence and calm.
Arsenal Boss Mikel Arteta Remains Hopeful That His Side Can Qualify For Europe This Season
Goalkeeper Emiliano Martinez, in for the injured Bernd Leno, was solid, Granit Xhaka returned effectively in midfield and Nketiah and Aubameyang were typically lively in attack.
"I asked the players to be together, to defend each other and to play for 90 minutes and that is what they have done today," said Arteta.
"We gave the ball away very easily in the second half. They committed a lot of men forward and we had to defend but the commitment and the way they competed was really good."
However, it would not be this current Arsenal without some shadows lurking in the background.
Manchester City v Liverpool To Be Played At Etihad Stadium
Full-back Kieran Tierney, who has been hampered by injury problems since joining the Gunners from Celtic last summer, limped out of the game in the second half.
Also, Matteo Guendouzi was left out of the squad entirely. While manager Mikel Arteta stated that his exclusion was down to "squad management", he also did not entirely dismiss speculation that the Frenchman blotted his copybook by clashing with Neal Maupay at the end of the Brighton game on Saturday.
Arsenal Boss Mikel Arteta Remains Hopeful That His Side Can Qualify For Europe This Season